CamdenpopRock proudly presents
JUST FOR THE RECORD
OVERVIEW
Historian, artist, pianist,

composer
 

and veteran teacher Christopher Andrew Maier channels Eldridge Reeves Johnson, the astute Camden machinist who perfected the wind-up Gramophone to deliver quality music to the world.
In this original multimedia one man show, Maier's carefully prepared digital images and music videos blaze brightly across the screen, weaving a visual tapestry of historically accurate information enriched with personal anecdotes and contemporary theories supported by evidence.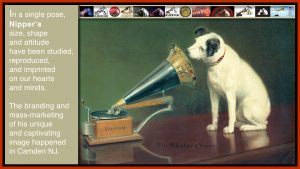 Maier's antique 1908 Victor Talking Machine Gramophone entertains you with vintage 78rpm Nipper records, from Enrico Caruso's operatic bombast, to Paul Whiteman's Charleston dance music and more.
The cool-down Q & A "after party" with the audience is always delightful. A host of supporting digital files stand ready to satisfy the most curious mind.
Got 3 minutes?
Christopher Andrew Maier's original music video!
PAST SHOWS
Puerto Rican Cultural Arts Center Festival
REVIEWS
Camden County Historical Society, Camden New Jersey
"Christopher Andrew Maier is one of the foremost experts on Eldridge Reeves Johnson, and his one man show Just For The Record is fascinating and delightful. Using slides, artifacts and spoken word, he brings Johnson to life, and his knowledge of related minutiae is extraordinary. I strongly recommend attending one of his performances. You will not want it to end!"
                     Chris Perks, President, Board of Directors,
                     Camden County Historical Society               www.cchsnj.org
*
Fort Nauck's, Spring Texas
"Eldridge "Christopher Andrew Maier" Johnson visited Fort Nauck's last week, and charmed us with his winning smile, engaging personality and passion for recorded sound. It is amazing how little most people know about the founder of the Victor Talking Machine Company, and the effect his enterprise had on worldwide music, culture and performance art. Cheers to Mr. Maier and his alter ego!"
                 Kurt Nauck, owner operator                       www.78rpm.com
*
Ristorante Retrò, Piazza San Marco, Firenze Italy
"Il signor Maier ha deliziato il nostro pubblico con la storia di Eldridge Reeves Johnson e del grammofono. Siamo molto grati!"
*
The Stronsay Limpet, Orkney Island's community newspaper 
"I thoroughly enjoyed Christopher Andrew Maier's show this evening . Lots of nice linkages and the audience seemed to "buy in" to the event!"
                   Bruce Fletcher, Orkney
*
Community House of Moorestown, which Eldridge Reeves Johnson donated to his community in 1926
     "We had the pleasure of hosting Christopher Andrew Maier's JUST FOR THE RECORD presentation on Eldridge Reeves Johnson and the Victor Talking Machine Company. Christopher has a unique style of presentation, mixing quirky humor with captivating facts. I have to say I truly enjoyed the presentation. Chris was able to emphasize and provide a fact-filled history on our Community House of Moorestown and beautifully segue into the RCA Victor and Eldridge Johnson history. Chris is full of enthusiasm; you will leave with a smile on your face and knowledge in your head. I hope to have the opportunity to see him again."
            George Schulmann
            Community House of Moorestown Board of Trustees Chairman
*
Merion Tribute House, which Eldridge Reeves Johnson donated to his community in 1924
https://www.facebook.com/LowerMerionTownship/videos/1079294578917921/UzpfSTEwMjU2NDA4MjU6MTAyMTUzMzQwOTIzOTg2NDE/
*
The Historical Society Of Moorestown, the town where Eldridge Reeves Johnson made his home for a quarter century
     "This was historical storytelling at its very best, bringing Eldridge Reeves Johnson right back to Moorestown. While we may have felt like we were Off-Broadway because of the high caliber show, we were actually in another wonderful place, just a block from Main Street in our beautiful Moorestown library."
                 Mary Berardi for The Historical Society of Moorestown
*
Bridlewild Trails Association, the community organization which maintains the original woodland hiking trails associated with the estate of Eldridge Reeves Johnson's son, E.R.Fenimore Johnson.
"Christopher Andrew Maier gave an entertaining and educational presentation on Eldridge Reeves Johnson, founder of the Victor Talking Machine Company to our organization.  Chris has a lively delivery style and brings history to life with his commentary and video production, complete with his lovely original music composition.  He's a multi-talented creative artist and engaging raconteur."
                     Bridlewild Trails Association Annual Meeting
*
Langhorne Arts Council, sponsor of the drive to promote Langhorne as the birthplace of Edward Hicks, noted artist of THE PEACEABLE KINGDOM, 1826, The National Gallery Of Art, Washington DC.
"Thank you so much for your fascinating presentation on the history of the recording industry!  Your lively and informative narrative with slides and the delightful song "Nipper's Yap Rap" really captivated the audience, and all were enthralled by the many artifacts and demonstration of the Victor Talking Machine. Wow, the fidelity of the sound was amazing!  I would highly recommend JUST FOR THE RECORD to any group interested in history, music, and early recording technology, or just looking for a most entertaining presentation."
                    Patricia Mervine, President, Langhorne Council for the Arts
*
Lecture Review – Christopher Andrew Maier: "Just for the Record: The Life of Eldridge Reeves Johnson"
*
CONTEXT
Eldridge Reeves Johnson launched VICTOR TALKING MACHINE in 1901, following it up in 1906 with his visionary home entertainment unit: The Victrola.
In 1927, Johnson sold his global music empire to RADIO CORPORATION OF AMERICA, retiring as one of America's wealthiest individuals. RCA VICTOR became the standard for electronic recording. Nipper was its ever-loyal mascot.
HMV (His Master's Voice) is the British edition of Victor, formed under the expert direction of Johnson's business partner, Alfred Clark, who began his own career in sound reproduction designing for Thomas Edison.
Maier's one man show JUST FOR THE RECORD hit the stage in 2016, honoring the centennial of three iconic buildings built by multimillionaire Eldridge Reeves Johnson for the Camden waterfront.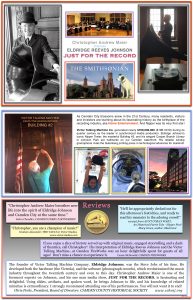 Christopher AND his original derby-hatted Eldridge Johnson character are even featured in a charming new children's book Aunt Cora's Wart, An Historical Faerie Tale: Nipper Fest!  written and illustrated by Mary Groce, available on Amazon.com.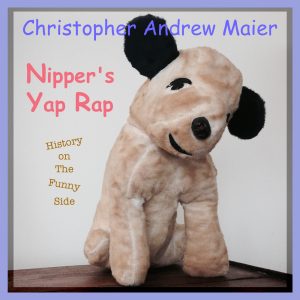 Postscript:  "Several years ago, my former art history student learned via FB that I was composing a comedy rap with Nipper in mind, to use in my first "Victrola History & Entertainment Booth". She immediately searched for, located, and mailed to me a favorite stuffed animal from her childhood, for safekeeping at The Victor. This playful straw pup, a mere 60 years old, began public life at our 2014 spring festival  CamdenNightGardens – CONNECT THE LOTS, and makes a special appearance in every show since. Nipper is in good hands, Carol!"
                                                Christopher Andrew Maier   2023