CamdenpopRock proudly presents
JUST FOR THE RECORD
Welcome to the amazing world of Eldridge Reeves Johnson and Victor Talking Machine.
Historian, artist, pianist, singer/songwriter and veteran teacher Christopher Andrew Maier channels Eldridge Reeves Johnson, an astute Camden machinist who perfected the wind-up gramophone to reproduce quality music. Eldridge launched Victor Talking Machine in 1901, and shortly thereafter introduced his fabulous all-in-one home entertainment unit The Victrola  in 1906. Two decades later, he sold his empire to Radio Corporation of America, retiring as one of America's wealthiest individuals.
In this original multimedia one man show, Maier's carefully prepared digital images and music videos blaze brightly across the screen, weaving a visual tapestry of historically accurate information enriched with personal anecdotes and contemporary theories supported by evidence.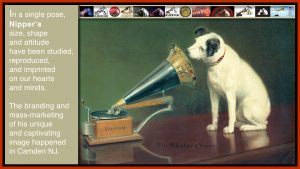 Maier's antique 1908 Victor Talking Machine entertains you with vintage 78rpm Nipper records, from Enrico Caruso's operatic bombast, to Paul Whiteman's Charleston dance music and more.
The cool-down Q & A "after party" with the audience is always delightful. A host of supporting digital files stand ready to satisfy the most curious mind. Lift up the hood of a Victor Talking Machine to observe the inspired simplicity of the wind-up turntable that brought music into households worldwide!
Got 3 minutes?
Have a look at Christopher Andrew Maier's original music video!
JUST FOR THE RECORD was first launched in 2016, honoring the centennial of three of Eldridge Reeves Johnson's iconic buildings on the Camden waterfront (described in the poster below).
Coming up in the fall of 2018, The Historical Society of Moorestown has booked JUST FOR THE RECORD, and  Merion Tribute House  has engaged the show for its Armistice Day Centennial. Merion Tribute House was generously donated by Eldridge Reeves Johnson to his community to honor Armistice Day, the end of The Great War.
Christopher's original derby-hatted Eldridge Johnson character is even featured in a charming new children's book Aunt Cora's Wart, An Historical Faerie Tale: Nipper Fest!  written and illustrated by Mary Groce, available on Amazon.com.
Click on this poster for reviews of JUST FOR THE RECORD!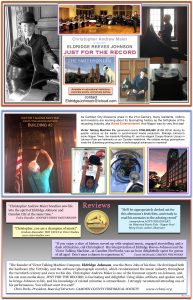 For Bookings & Info Contact: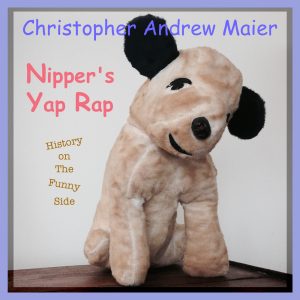 Postscript:  "Several years ago, one of my former art history students learned via FB that I was composing a comedy rap with Nipper in mind, to use in my first "Victrola History & Entertainment Booth". She immediately searched for, located, and mailed to me a favorite stuffed animal from her childhood, for safekeeping at The Victor. This little pup, a mere 50 years old, began public life at our spring festival  CamdenNightGardens – CONNECT THE LOTS . Nipper is in good hands, Carol!"
                                                  Christopher Andrew Maier   2018